Brendon Care Connect - Spring 2019
Connecting Young and Old
Intergenerational activities offer the opportunities for social engagement and interactions between older people and younger children – with positive benefits for all involve.
Many of the residents and staff at Brendoncare Stildon Nursing Home in East Grinstead were  surprised and delighted to welcome local fun time music group Musical Minis into their home along with many much much younger faces.
Having been inspired by the recent Channel Four documentary Old People's Home for 4 Year Olds, Amy Ryan who runs the Musical Minis franchise for Southern Home Counties, thought it would be a lovely idea to run a special one off session at Stildon to allow the residents and local children to interact through the use of music, instruments, song and dance.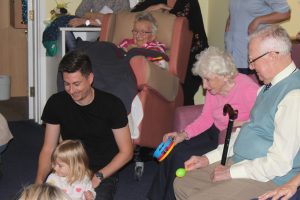 The staff were delighted at how well the residents reacted to so many new and different elements and all of the children were incredibly keen to introduce themselves and have a few cuddles.
Amy said that to watch so many generations coming together and enjoying themselves was incredibly rewarding and everyone involved seemed to benefit in different ways.
"It was so special for me to work in such a unique environment and I am so glad that local families engaged with the idea. Watching staff and people in their senior years dance to the Hokey Cokey with toddlers is a pretty awesome sight."
It was such a successful event that Musical Minis has been asked to run monthly sessions at the home moving forward.
Amy runs weekly sessions in East Grinstead, Forge Wood and Lingfield as well as nurseries, health clubs, care homes, schools and parties. For further details as to how your little ones can be involved or for details of other local sessions, please contact Amy or visit the Southern Home Counties website.