WORK EXPERIENCE GRADUATION IN MERSEYSIDE
In February we wrote about the Musical Minis Merseyside Work Experience Programme.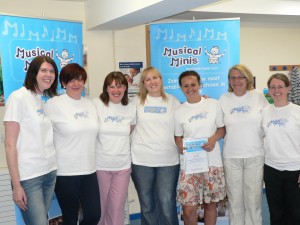 On the 28th May we were delighted to be able to attend the graduation of the first Musical Minis Work Experience participants at Stoneycroft Children's Centre funded by Liverpool Mutual Homes.
Cathie Flynn, our Musical Minis Merseyside franchisee, oversaw one final session. We were really impressed with the confidence and enthusiasm of the six trainees Laura, Faye, Viv, Carrie, Sharon and Debbie. The final session was quite eventful with numbers swelling throughout the lesson, but this was handled seemlessly with the trainees unphased. Small changes had to be implemented to the planned programme and we were really impressed with how this was dealt with.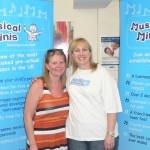 After the session there was a presentation and celebratory party. Each trainee received a certificate and a small memento. We were really pleased that Margie Kelly from the centre, who had helped design the course, was able to attend.
The course is aimed at giving people a chance to learn valuable transferrable skills and also gain confidence whilst learning to present and assist at Musical Minis classes.
Cathie said "We are hoping to run more courses throughout the region as we have seen the increase in confidence in the people who have attended. All of the candidates worked hard and were able to showcase their achievements in a final Musical Minis session. The families that attended the sessions also enjoyed the benefits of the classes.
We are so grateful to Liverpool Mutual Homes for giving us the opportunity to run this first course"