MUSICAL MINIS TEESSIDE FRANCHISEE FINALIST IN EWIF AWARDS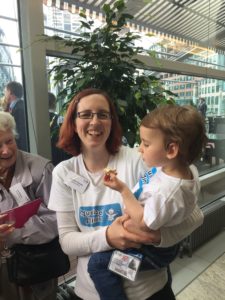 Caroline Docherty, who runs Musical Minis Teesside and South Durham was recently a finalist in the EWIF (Encouraging Women Into Franchising) Awards in the category of 'New Woman Franchisee of the Year 2016', sponsored by NatWest Bank.
The awards, now in their 6th year, recognise the talents of women in the UK franchise industry.
The 32 yr old mother of 3 combines running her successful children's music and singing classes with raising her young family, from her home in Redcar in Teesside.
Currently children aged 0-5 in Guisborough, Great Ayton, Coulby Newham, Wolviston, Redcar, Thornaby, Saltburn, Marton and Ingleby Barwick join Caroline's classes to sing traditional nursery rhymes and play basic musical instruments. During the classes children improve their language, co-ordination and cognitive skills through singing and music in a programme developed by founder of Musical Minis, child psychologist Karen Sherr. Over 750 children have benefitted from attending Musical Minis in the Teesside area.
Caroline's award entry included the facts that in 2015 she doubled the size of her business, brought in new members whilst retaining those who were already attending and also managed to run numerous seasonal parties. Obviously this had a great impact on the total income Caroline took over the year, bringing it up to 136% higher than it was in 2014. This increased level of total income allowed Caroline to reach a lower rate of royalty fees, enabling her to keep more as profit.
Commenting on being a finalist in the EWIF awards Caroline said,
'I was honoured to make the finals of the EWIF awards and, when I met so many of my fellow finalists in London yesterday, I realised how many truly talented women there are working in the UK franchise sector. I was amazed to hear so many different stories, from women running cleaning businesses to McDonalds restaurants, and most doing it whilst raising families too. That's the great thing about franchising, it's usually very flexible. Although I didn't win, I came away feeling empowered and motivated, determined to come back bigger and better next year and try to win 'Franchisee of the Year'.
Founder of Musical Minis Karen Sherr said,
'We could not be more proud of Caroline for making the finals of the EWIF awards. She works so incredibly hard, growing her business year on year and all whilst raising three very young children. Sometimes I don't know how she does it, but she does! As Caroline has proven, you can be a very successful franchisee, running a sustainable, profitable business, at the same time as raising a young family.'
If you would like to book into a Musical Minis Teesside class please visit http://teesside.musicalminis.co.uk/ . If you would like to know more about being a Musical Minis franchisee, please visit https://www.musicalminis.co.uk/franchise/welcome/