ST DAVID'S DAY 2018 WITH MUSICAL MINIS SOUTH WALES
Guest blog post by Jo Weaving our South Wales Musical Minis franchisee.
Several years ago, I took the decision to include a week of Saint David's Day celebrations within my classes. Despite having taken holiday's in Wales as a child and having lived in Wales for 11 years before becoming a Mum, it wasn't until I became a Mum that I realised how big the celebrations for Saint David's Day, in Wales, are. When my eldest son, Jack, started school I first became aware of the Eisteddfod that all schools hold to celebrate Saint David's Day. An Eisteddfod is a festival of music, dance & poetry held in Wales every summer and is the largest festival of it's kind in Europe. Obviously, the schools Eisteddfods are on a much smaller scale but are still full of music, dancing, poetry, arts & crafts, story writing, baking and lots more.  Children are encouraged to go to school dressed up in either national costume or a costume that has a welsh theme. (Rugby player, daffodil, leek etc etc) I can remember one year, a child had made a costume of Mount Snowdon.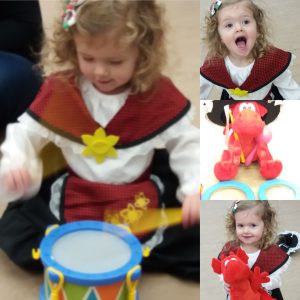 So, who was Saint David? Saint David was born in Caefai in South West Wales. He founded a Celtic monastic community at Glyn Rhosyn on the western headland of Pembrokshire, where Saint David's Cathedral stands today.
David's fame as a teacher spread quickly among Celtic Christians and he helped found almost a dozen monasteries. His foundation at Glyn Rhosyn became an important Christian shrine, and the most important centre in Wales. The date of Saint David's death is believed to be 1st March 589. Saint David was recognised as a national patron saint during the 12th Century.
We celebrate Saint David's Day at Musical Minis South Wales by singing our name song in Welsh, including a few simple Welsh nursery rhymes and with a dragon story. This year, 2018 was no different, except we only managed to run half of our classes due to the unexpected snow.
The whole of Wales take great pride in celebrating on March 1st, donning daffodils & leeks, sampling delicious welsh cakes and bara brith, as well as discussing the latest performance of the Welsh Rugby team in the Six Nations contest.
Dydd Gŵyl Dewi Sant Hapus.
Jo runs classes throughout the week in Barry, Barry Island, Bridgend, Cardiff Bay and Pontyclun. If you would like to know more about Musical Minis South Wales, please visit the website, email jo@musicalminis.co.uk or phone Jo on 01446 733788.