MUSICAL MINIS FRANCHISEE OF THE YEAR
Musical Minis has announced that Caroline Docherty, owner of Musical Minis Teesside and South Durham has been awarded the title 'Franchisee of the Year'.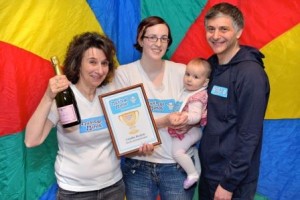 At our recent annual conference where franchisees gathered to hear founders Karen Sherr and husband Rob report on the overall performance of the franchise network, they also discovered that Caroline who bought the business just over a year ago (Jan 2014), had achieved impressive figures, growing membership of her classes by 121%, all whilst looking after two young children and giving birth to a third child at the end of her second term in business.
Alongside recognising her incredible sales figures, Caroline was also praised for her organisational skills, tenacity and for supporting all Head Office initiatives.
Karen said
'I don't quite know how Caroline does it, with three children under the age of 4 but she somehow manages to combine motherhood with running a very successful business and we are so proud of her. She is always the first to join in with PR campaigns and really contributes to the network as a whole. She is an ardent user of social media, using Facebook alone to fill one entire class in just 24 hours. Her business and administrative skills are to be admired and applauded.'
Caroline said,
'I was thrilled to be named 'Franchisee of the Year.' Listening to Rob describing the person they had chosen, I was shocked to gradually realise, with each thing he said, that he was actually talking about me! I am really grateful that all the hard work I've put in has been acknowledged so officially by Head Office and would like to thank them for all their support. I would also like to thank my amazing staff for running so many sessions for the franchise.'
If you would like to know more about or becoming a franchise owner, please visit the franchise section on the website.