MUSICAL MINIS FRANCHISEE OF THE YEAR 2017
Jo Weaving, owner of Musical Minis South Wales has been awarded the title ' Outstanding Franchisee of the Year'.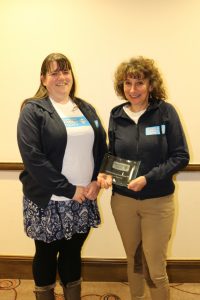 At our recent annual conference, founder Karen Sherr and husband Rob revealed that Jo, a Mum from Barry with two boys Jack who is 13 years old and Harrison who is 8 years old, had been selected to recognise her consistent support over many years. Jo bought the business 13 years ago when her eldest son was a baby. Karen and Rob also praised Jo for her organisational skills, tenacity and for supporting Head Office.
Karen said,
"Jo had been selected to recognise her positive outlook and contribution to the franchise over many years. This year in particular Jo has been extremely helpful. In addition to assisting Head Office with their initiatives, Jo took a new franchisee, Hazel Shaw, franchisee for East Cardiff and Gwent, under her wing to give Hazel the best start possible. Jo is always willing to share her time and thoughts with us and the other franchisees and we are delighted to recognise this through the franchisee of the year award."
Jo said,
"I was delighted and honoured to receive the award at this year's franchisee meeting. I love running Musical Minis classes in South Wales and it's so rewarding watching the children learn new skills and grow in confidence as they attend our classes. I have a fantastic team working with me, for which I'm very grateful, and between us, we have seen hundreds and hundreds of children, and their carers, enjoy our classes over the years."
Jo runs classes throughout the week in Barry, Barry Island, Bridgend, Cardiff Bay and Pontyclun. If you would like to know more about Musical Minis South Wales, please visit the website or phone Jo on 01446 733788.