MUSICAL MINIS FRANCHISEE OF THE YEAR 2018
Children's music and development franchise Musical Minis has announced that Louise Emerson and Rachel Parker, owners of Musical Minis Durham have been awarded the title ' Outstanding Franchisee of the Year'.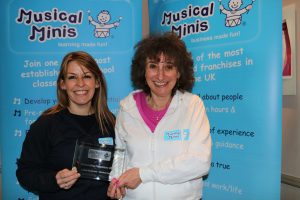 At their recent annual conference, founder Karen Sherr and husband Rob revealed that Louise and Rachel, both Mums from Durham, had been selected to recognise their positive and professional approach to running the business. Louise, who has 3 girls aged 9, 6 and 4 years, bought the business 3 years ago when her youngest was a baby. Louise, together with her sister in law, Rachel who has 2 boys, one aged 3 years and one aged 6 months, were both praised by Karen and Rob for supporting Head Office, from writing blog posts to organising a photo library.
Karen said, "Over the past two years Louise and Rachel have been hugely successful in building up contract work in an area that the previous franchisee struggled with. This contract business was put out to tender in 2017 and they were one of a very few businesses that was accepted. Somewhat ironically this has led to a significant reduction in contract work as the council decided to concentrate on something other than early years for the moment. However Louise and Rachel have persevered, demonstrating resilience and tenacity, two qualities that Head Office greatly admire and we are delighted to acknowledge this through the franchisee of the year award."
Louise said, "We were absolutely over the moon to have won the Outstanding Franchisee of the Year award. We hadn't expected it at all so it was a very pleasant surprise. We have worked hard this year on our tender application to ensure we made it onto Durham County Council's list of approved providers, and so it was lovely that this was recognised by our Head Office who supported us a great deal during the application. Musical Minis is a fantastic company to work for and we thoroughly enjoy what we do. Working with young children is one of the most rewarding jobs there is and we are lucky enough to do this with a very supportive team of people behind us. It's been a great year and this award has been the icing on the cake! We look forward to what the rest of 2018 brings!"
Louise accepted the award on behalf of both her and Rachel as Rachel was unable to attend the Franchise Meeting.
Louise runs Musical Minis Durham classes in Belmont, Chester Le Street, Durham, Lanchester and Newton Hall. For details about classes and to book online please click here . Louise can be contacted by email at louise@musicalminis.co.uk