MEET OUR NEW DURHAM FRANCHISEE
We are really sorry to be losing our existing Durham franchisee Jacquie Sedman after 10 fantastic years. Jacquie has left behind a great legacy in Durham and we are delighted that Louise Emerson will be continuing to bring lots of fun to the children of Durham in the future. This is what Louise has to say….
Hi, I'm Louise and I'm very excited to be the new owner of Musical Minis Durham. I have taken my three daughters to Musical Minis for the last five years and we have all thoroughly enjoyed the sessions. When I heard the news that Jacquie was selling the franchise, I was devastated at the thought of it being the end of our 'Minis' journey. However, when she suggested to me the possibility of buying the franchise and taking over her role, I jumped at the chance! What a great job, getting to sing, dance and have fun with all the lovely little people I'll be lucky enough to encounter.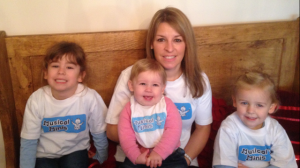 I've seen first-hand the many benefits of attending Musical Minis sessions, and just how much the children get out of it. My eldest child, Holly is nearly 6 and would still come to the classes if she could. In fact, both Jacquie and I cried our eyes out on her last session before starting school as it really was the end of an era for us – it meant she had grown up! My middle daughter, Phoebe is literally obsessed with Musical Minis! She has her own collection of puppets and sits playing with the app and doing all the actions! We have to play 'Minis' on a regular basis, and she is like Jacquie's shadow at the sessions as she mimics everything she does! (I'm sure she will keep me right with my new venture!) I also have a 10 month-old baby, Sadie who is also thoroughly enjoying the Musical Minis experience! She learnt to clap through the 'Clap your hands' song and so I'm already seeing its impact!
The music, structure of the sessions and the freedom to be able to move about, dance, sing and experiment with instruments, make the classes a real hit with children. They enjoy the familiarity of the nursery rhymes and stories and love interacting with the puppets. If you've never been to a session and have a pre-school aged child, I really recommend you try it as it genuinely has been one of the activities I've loved doing with my children from the first time we attended and I really look forward to it every week. It's something my husband has also enjoyed taking the children to as there's always lots of other dads, grandparents and carers – it's not just a group for mums!
I'm really looking forward to running the Durham classes, along with my sister-in-law, Rachel. I have always enjoyed working with children – I was a teacher prior to this, but owning this franchise offers the perfect balance between work and family. There is also a lot of potential for me to grow and expand the business, which would be great, as I know there is a lot of demand for the classes in Durham.
We would love to hear from you if you thinking about attending one of the classes or are interested in booking a party. Musical Minis also run sessions in playgroups and nurseries, so if this is something that interests you, email or ring me with any enquiries. I look forward to hearing from you.