Start Your Business - October 2013
Musical Minis is 'Top Of The Pops'
with franchisees in satisfaction survey!
Musical Minis franchisees are a happy bunch according to the results of their latest franchisee satisfaction survey.
The children's music classes franchise, founded by Karen Sherr in 1997, scored 100% in a number of categories including, initial training and support, head office support and work life balance.
Completed anonymously by franchisees, the report produced by Smith & Henderson, is a testimony to the professionalism and vision of child psychologist Karen and husband Rob who together provide support to their team of 14 franchisees.
Musical Minis franchisees run classes for children aged from 0-5, designed to help their cognitive, physical and emotional development through music, instruments and stories.
In additional comments, franchisees spoke of how running a Musical Minis franchise allowed them to run a profitable business, which fitted in around their families and made them feel as if they were providing a 'genuine service that is much better than our competitors.'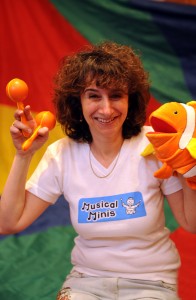 Franchisor Karen Sherr noted,
'These surveys are so important because they allow us to find out exactly what the franchisees are really thinking and thankfully, they seem quite happy! Naturally there are some areas for improvement, as there is with any business and we're looking forward to implementing some of the suggestions made in the report.'
She continues,
'We see Musical Minis as one big family, all working together and supporting each other; we've got some tremendous franchisees, running hundreds of classes across the UK every year and we're very proud of them all.'
If you would like to know more about running your own Musical Minis business contact Karen Sherr on: 020 8868 0001