Musical Minis – More Than Just A Baby Group
Post from Louise Emerson the franchisee for Durham Musical Minis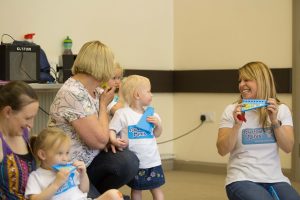 They say time flies when you are having fun and that's certainly been true for Rachel and I as it has now been over 3 years since we bought the Durham Musical Minis franchise. In some respects it doesn't seem like 5 minutes ago but when I look back at out Facebook profile picture, which I had taken when we first acquired the business, my girls seem so little and I realise a huge chunk of time has actually passed! And that I really need to update that picture….!
So three years on and we are very happy with how the business is going. I remember at the time of buying feeling very nervous but equally excited about the potential for the business. I have always felt it had and continues to do my girls the world of good (as they do still come to classes with me when they can – and not because they have to but because they beg to!). So it was fate really that I got chatting to a lady at a Family Day at our local leisure centre who happened to work in one of Durham's many Children's Centres. She was just making general conversation about my girls (who I think I was trying desperately to extract from the building at the time) and she asked what I did and gave me her contact details. She felt from what I'd said that this would be something the Children's Centres would be very interested in.
Fast forward a year and were operating in three different Centres and were in discussions with others. At the meetings Rachel and I have attended, it has always been commented upon how passionate we seem to be about what we do – which is very true as we tend to get a bit excited and go into overdrive, talking at 100mph! It's because we see daily the many benefits of our classes to the children who attend. Whether it's children learning to share instruments who haven't previously, or a shy child leaving the safety of their carer's lap to wander around the room and sit with another child, to blowing a whistle for the first time or singing along to newly learned words to a song. It's all so rewarding watching these little milestones.
We can now share our evidence of this not only with parents and carers, but the staff in the nurseries and centres where we operate. We tend to work on a 6-week rolling programme; covering a number of nurseries under the umbrella of each Children's Centre. The difference in the children from session one to six is amazing. We have had some fantastic feedback from the staff, which is always lovely to hear.
As part of the monitoring and evaluation that takes place in a nursery setting, we are asked to fill in paperwork prior to and after each session to set out our objectives and to see whether they have been met. As we map the EYFS framework, this has been quite a standard procedure for us.
We have been privileged to meet many amazing children who have really stood out in our minds. One little girl had never spoken at nursery. She would sit with a member of staff for our session each week and would barely make eye contact, as she was painfully shy. The staff explained she had never spoken yet and not to be disappointed if we didn't get a reaction from her. Each week we try to tailor our objectives to achieve maximum success in whichever setting we are working in. In this case, one of our objectives was to ensure each child participated in some way and benefited from the session. Quite unbelievably for the nursery staff as well as ourselves; this particular child started to sing in the 4th week. We were all amazed and felt very proud to have made such an impact on her. It was quite a feeling.
In addition to the nursery work, we have also operated groups within the Children's Centres themselves. Our focus sometimes changes depending on the requirements of the centre at that time. We have worked with groups of children who need extra help with their speech and language development; with young parents and carers who can sometimes feel anxious about attending 'baby groups'; children with additional needs. We have also done a number of themed parties for Christmas/Summer etc that have gone down very well.
In the spring, we were asked by Durham County Council to apply to be on their provider panel. They decided to re-evaluate the provision they offered within the Children's Centres by asking interested parties to apply for tender. In a nutshell, this involved attending meetings, gathering evidence and preparing some lengthy documented evidence of what we do and how successful it is. We were told it wasn't a case of just putting on paper what we do, that it would be a difficult process and many applicants wouldn't get through. After what seemed like a long wait, we discovered in the summer that we were one of only a small handful of organisations who had been successful in our areas. We were obviously thrilled and this has given both Rachel and myself a real boost to know that other people believe in and recognise the value what we do as much as we ourselves do.
It's now 2018, a new year and if we continue as we have been for the past 3 years, hopefully our business will go from strength to strength. At least, that's our aim!
Durham Musical Minis has classes throughout the week in Belmont, Durham, Lanchester and Newton Hall. If you would like to know more about Musical Minis Durham or would like to enquire about them visiting your Children's Centre or nursery, please email louise@musicalminis.co.uk or phone Louise on 07743 827281.