FLEXIBLE WORKING – Q & A WITH JO FROM SOUTH WALES
With the controversies surrounding working mums, and whether or not they can have it all, we've been catching up with one of our long-standing franchisees, and finding out that actually, here in the real world, it is possible to have a very fulfilling and challenging career and still have time for your wonderful family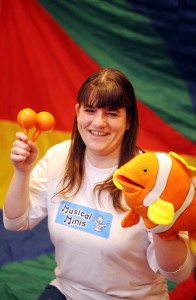 Jo Weaving, our Musical Minis South Wales franchisee, who has been with us since 2003, explains how she has not just coped with running a business and having a young family, but thrived on it.
What attracted you to Musical Minis?
I found about Musical Minis in a baby magazine when my eldest was a few months old. I liked the idea of combining music with income. I trained at the Royal Welsh College of Music and Drama but after I graduated I didn't think I'd use the music to earn a living.
I was also attracted to the possibility of having no childcare costs. We don't have any family locally so would have needed to find either a nanny or full time nursery as I was working as a retail manager at the time working up to 60 hours some weeks and weekends. The start-up cost and ongoing costs were also very reasonable.
Have you found the Musical Minis' programme flexible? Were you able to introduce some ideas of your own?
Yes, I've introduced a number of new things.
Welsh is taught from pre-school age in nurseries, playgroups, toddler groups and similar so we do try to include a little bit where possible. Usually counting and occasionaly basic phrases such as 'well done'. The parents do appreciate this and actively join in.
As a musician I do have access to several 'grown up instruments' so sometimes I take an instrument to demonstrate when we introduce the 'instrument of the week' at the start of the class.
I have taken a snare drum and all the children have been able to have a go which they have loved. I have also taken a clarinet and on another occasion a flute when the instrument has been a whistle. Although we are not teaching the children to be musicians the children, and their carers, love seeing something a bit different and special. 
We have a listening element included in our sessions – a bit like musical statues. Rather than just doing musical statues, and upon the suggestion of another franchisee we sometimes use a parachute or bubbles to assist us.
More recently I have introduced the use of chiffon scarves here as well. The children play with the scarves while the music is playing then let them drop to the floor when the music stops.  I find that this keeps the sessions fresh without moving away from what Musical Minis is all about.
I use a story bag and a story bag song at story time. This idea came from another franchisee a few years ago.
This summer I gave out colouring sheets at the end of my one off summer parties and we ran music and craft sessions in one venue.
So yes, I have enjoyed making my own 'stamp' on the sessions, and enjoy the freedom to do this.
Do your own children enjoy the Musical Minis sessions?
My eldest, Jack is eight, and my youngest, Harrison, three. Both children have come along to all classes and Jack now assists at parties and at some of the sessions last summer.
Jack started talking at an earlier than average age and his speech and diction has always been very clear, especially compared to his peers.
Musical Minis has taught both children invaluable listening and social skills. The nursery teacher at our school has said that she can always tell the children that have attended Musical Minis as they sit and listen and follow instructions in a much more advanced way than those who have never attended.
Both boys have also formed some fantastic friendships through Musical Minis.
How about the flexibility of being a franchisee – after working 60 hour weeks in your last job, how have you found this?
Fitting Musical Minis around family life has always been very easy because there is no pressure to run a specific number of sessions per week.
I have been able to structure my sessions around school and playschool drop-offs and pick-ups.
I also have a great team of ladies working for me so I am usually able to find cover so that I can attend assemblies, sports days, concerts, and all those special occasions you sometimes miss as a full-time worker.
I also teach music from home on four evenings a week after school. Musical Minis has given me the ability to explore this venture as well.
So do you enjoy being a franchisee – how have you found running your own business as well as having a young family?
Running a business, working and running a home is never going to be easy but it can be very rewarding.
I have to be very organised and think a day ahead all the time. Routine is vital as is keeping on top of paperwork, phone calls, emails etc.
I try to set aside the same time each week to do the majority of my administration, the day-to-day gets done when I finish teaching and the children have gone to bed. 
The support we receive from Musical Minis head office is fantastic. Everything is always really straight forward. The benefits outweigh any negatives as I am able to be a full-time mum. I am always there to take the children to school and to collect them at home time, I can help them with their homework and spend time with them.
What would you say to anyone considering taking on a franchise with Musical Minis?
I'd say go for it!
What other job is there where you really can pick and choose your own hours of work to fit in round your family?
What other job is there that will enable you to take as much time off as you require (staff permitting) to attend school activities? You need to be organised, but most of all, you can make it work for you, so what are you waiting for?!
To find out more about Jo's classes and birthday parties, please email her at jo@musicalminis.co.uk