ST. DAVID'S DAY 2017 CELEBRATIONS WITH MUSICAL MINIS
Guest post by Jo Weaving our South Wales Musical Minis franchisee.
Having grown up in England, I'd never witnessed any special celebrations for any of the Patron Saints days before, although I could tell you who the Patron Saints for each country within the UK are, and their special days, having learnt this for a badge when I was a Brownie. But, although I'd lived in Wales, for a number of years, before I became a Mum, it wasn't until I had my first baby and started taking him along to groups, that I actually realised how much effort goes into celebrating St David's Day and also the Welsh language. Welsh is a core subject in Wales, from preschool, right up to the age of 16, when youngsters sit GCSE Welsh, and even though my children don't attend a 'Welsh School' they have a good grasp of basic Welsh. On St. David's Day, children go to school dressed for the occasion, outfits often include leeks, daffodils, rugby players and of course Welsh national dress, and they celebrate with a traditional 'Eisteddfod' which includes competitions and activities for art, creative writing, poetry, music & baking.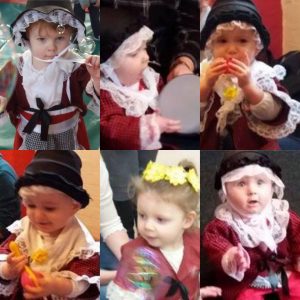 It's through my own children's learning that I have picked up the odd word or two and through taking them to various 'baby groups' that I have learnt a few Welsh preschool songs.
It was this that gave me the original idea, a few years ago, to try celebrating St. David's Day in Musical Minis. It was such a success that this has become part of my annual Musical Minis programme.
We start our session by singing our name song in Welsh, we sing Head's Shoulders, Knees and Toes in Welsh and we have a couple of well-known, and simple Welsh nursery rhymes. We also have a very special Dragon in our storybag. Our class members are encouraged to come along dressed for the occasion and the grown-ups seem to appreciate the effort.
To add to my own celebrations this year, I was delighted to be invited into the primary school that my youngest child still attends, to run Musical Minis as part of their 'Welsh Week Celebrations.'
Dydd gŵl Dewi Sant Hapus.
Jo runs classes throughout the week in Barry, Barry Island, Bridgend, Cardiff Bay and Pontyclun. If you would like to know more about Musical Minis South Wales, please visit the website, email jo@musicalminis.co.uk or phone Jo on 01446 733788.