MEET OUR NEW OXFORD MUSICAL MINIS FRANCHISEE, HAYLEY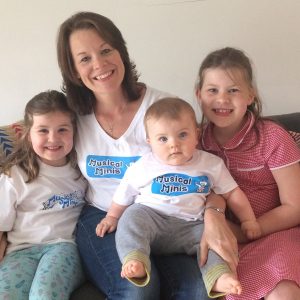 Leena Thakker, our Oxford franchisee, after 9 fantastic years has decided to sell her franchise. Leena has left behind a great legacy in Oxford and we are delighted that Hayley Clements will be continuing to bring lots of fun to the children of Oxford in the future.
This is what Hayley has to say…. "Hi I'm Hayley Clements and I'm very excited to be the new owner of Musical Minis Oxford. I'm a mum of three children Poppy (8), Josie, (4) and Oscar (9 months) and I'm thrilled to be joining the Musical Minis Franchisee team. I've been working in music education for the last 18 years firstly as a secondary Head of Music and in my role at the Royal College of Music, London where I lead the Learning and Participation team.
In 2015 we made the big decision to move from London to Oxfordshire for my husband's work. Moving to a new area is always exciting and daunting in equal measure – I began to work part-time and so wanted to find local activities that would help me get to know new people and also be fun for Josie, who was still at home. A friend recommended Musical Minis in Aynho – and I literally have never looked back! I met a wonderfully friendly group of people and our lovely leader Jane – so I felt instantly welcome. Josie got stuck in straight away and week to week I could see her develop in so many ways – her confidence continued to grow, along with her listening skills, responding to instructions and of course her musicality. She also made amazing friends – who are now still all her little pals, most of whom she will start school with in September.
Since starting running the classes in Oxfordshire it has been lovely to have the instant feedback from lots of smiling happy faces. The children clearly love the fun, structured format of the Musical Minis sessions which enables them to get fully involved – with singing, movement and actions – there really is something for everyone!
Of course, it's also a steep learning curve for me! But new challenges are positive and have already opened many doors and introduced me to lots of great, new people. I'm looking forward to all that the Musical Minis franchise will offer and teach me."
Hayley would love to hear from you if you thinking about attending one of the classes in Oxfordshire or are interested in booking a party. Musical Minis also run sessions in Children's Centres, playgroups and nurseries, so if this is something that interests you, email or ring Hayley with any enquiries.
Oxford Musical Minis is currently running classes throughout the week in Aynho, Bicester and Fritwell.
Hayley can be contacted by email at hayley@musicalminis.co.uk or you can phone her on 07760 226209.