Start Your Business Magazine - September 2014
Musical Minis launches new recruitment video!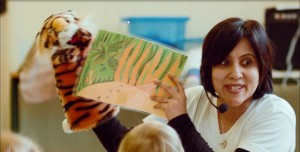 National children's music and singing franchise Musical Minis, who are celebrating their 25th anniversary this year, have recently revealed their new franchise recruitment video.
Shot on location in Oxfordshire, franchisee Leena Thakker talks the viewer through buying and setting up the business and how she made back her initial investment in just her first year of trading.
Musical Minis franchisees run music classes for children aged between 0-5, singing traditional nursery rhymes and songs with actions, puppets and musical instruments.
Founder Karen Sherr, who has a degree in Child Psychology and was a specialist play co coordinator at Great Ormond Street Hospital, set up the business 25 years ago when she couldn't find a fun but educational music group to take her own baby son to.
Says Karen,
'We are absolutely delighted with the video and hope people will find it useful.  We discovered that a visitor to a website with a video on it, will stay on average five minutes longer than on one without a video and  also that having a video on the site increases the chances of a 1st page google listing by 53 times. With these facts, we knew we had to commission a professional video, to hold the attention of our website visitors and inform them of the great opportunity owning a Musical Minis franchise gives them.  We hope the video conveys the flexibility of our franchise and how profitable it can be. So many mums are choosing not to return to 'traditional' jobs and Musical Minis fits perfectly into the 'work-life balance' role.'
To watch the video visit: https://www.musicalminis.co.uk/2014/07/video-interview-with-a-musical-minis-franchisee/ (links to YouTube)