ALL CHANGE IN BUCKS & SOUTH NORTHANTS
After 5 fantastic years, we are sadly saying goodbye to Amanda Perkins as franchisee of the Buckingham and South Northamptonshire area. Amanda is leaving to pursue a career as a teacher and we wish her all the very best in her new career. In 2011, being her first year as franchisee, Amanda won the Young Franchisee of the Year Award with EWIF (Encouraging Women Into Franchising), having successfully built up the franchise after taking it over in 2010.
We are delighted that our existing Oxfordshire franchisee, Leena Thakker, has decided to purchase the Bucks & South Northants franchise from Amanda and classes will continue in January 2016. Leena has seen the benefits that the children have achieved in the Oxfordshire area and when the chance came up to purchase the adjoining area she leapt at it. Leena intends to continue with existing classes with the same staff and hopes to expand further later in 2016.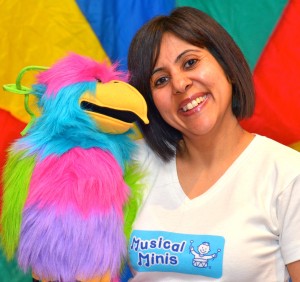 Leena said; "I am delighted to have taken over the Bucks and South Northants area. I feel that with my experience in running the Oxfordshire area successfully for the last 6 years, I will be able to bring my skills to move the business forward in the neighbouring areas. I am very excited about the future as we head into the new year. A new beginning for Musical Minis in the Bucks and South Northants area!"
Classes are running in Buckingham, Loughton Lodge, Stony Stratford, Tingewick and Winslow. To book online or to find out more information please click here.