MEET OUR NEW BUCKS AND SOUTH NORTHANTS FRANCHISEE, SOPHIE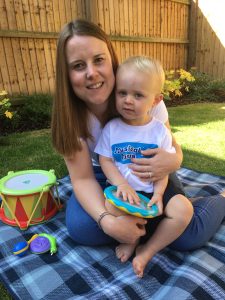 Leena Thakker, our Bucks and South Northants Musical Minis franchisee, has sold her franchise as she has moved to Switzerland. Leena has left behind a great legacy in the area and we are delighted that Sophie Cadigan will be continuing to bring lots of fun to the children of Bucks and South Northants in the future.
This is what Sophie has to say…. "Hi everyone – I am so excited to be able to introduce myself as the new owner of Musical Minis for Buckinghamshire and South Northamptonshire.
A little bit about myself… My name is Sophie Cadigan and I live in a small village on the outskirts of Milton Keynes with my husband, Ben – Head of History at a local secondary school, our little boy – Oliver, who will be 2 in October (where has that time gone?!) and our cat, Tigger. I am a local girl, having grown up in the next village along – so I know the area very well.
Before having Oliver, I was a secondary school teacher – leading the Sociology department in a high school in Milton Keynes. I worked there for 9 years in various roles and loved working with young people. I decided, however, not to return after maternity leave and instead to become a full-time mummy to Oliver – something I have always wanted to do and have not regretted.
One of the groups Oliver and I tried out was Musical Minis run in Winslow by Leena – we were both hooked! Oliver loved the opportunity to make lots of noise, interact with other children and relished learning the moves for each song! I was equally impressed – what struck me was how perfect the balance was between structure and freedom. Coming from a teaching background I really appreciated how well planned the sessions were and the clear routines and reasoning behind each activity, but I also enjoyed the relaxed nature, allowing Oliver to explore instruments freely and dip into as many activities as he felt he wanted to. This love for Musical Minis has meant we have never missed a session and is the only class (aside from swimming!) that we have stuck with. The development in Oliver over the past year has been amazing – he has grown in confidence (often standing in the middle of the circle dancing!), has improved his coordination, developed a longer attention span, fantastic sense of rhythm and a real passion for music – lots of which I credit to Musical Minis.
The opportunity to buy the Bucks and South Northants franchise seemed to fall into place at the right time for me. I was beginning to explore potential new challenges to undertake without compromising on my decision to be a full-time mum, but I also wanted to keep my love of working with children – Musical Minis fits that bill perfectly!
I am really excited about this new role and cannot wait to get started this September!"
Bucks and South Northants Musical Minis sessions are currently running in Winslow, Buckingham, Tingewick, Stony Stratford and Loughton.
Please visit http://buckinghamshire.musicalminis.co.uk or email sophie@musicalminis.co.uk for more information.