Home Childcarer - Jan-Feb 2015
There Is A Rhyme And Reason To It
Musical Minis has spent the last 25 years developing children through its network of franchisees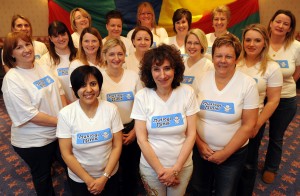 Studies have shown that children who grow up singing nursery rhymes develop better social, speech and motor skills and enjoy more contentment than those who don't.
Karen Sherr founded Musical Minis 25 years ago based entirely on this premise. She tells Home Childcarer more about the fun sessions Musical Minis franchisees run nationwide for the underfives and how those who care for children make ideal franchisees. "I know some people think nursery rhymes are just a bit of fun. Whilst they are fun, there is also a lot that they can teach children," she says. "A number of nursery rhymes are based on historical events. Young children are not aware of this, but it does help the adult teaching them to the child to focus on the fact that they aren't just meaningless.
"They can also teach children basic language skills. They contain both usual and some more unusual vocabulary. They are rhythmic and can help young children learn sentence formation and syllables.  The breaking down of words helps children learn how to communicate. For example, "ma-ma"  develops into "mummy" as the child's speech progresses.
"The rhyming words they contain are a great way for a child to discover words and form the basis of reading skills.
"Many nursery rhymes already have actions to accompany them and at Musical Minis we use actions with all the nursery rhymes, for example "Humpty Dumpty sat on a wall," the children sit on their carer's lap, "Humpty Dumpty had a great fall," the carer's bounce them up and down.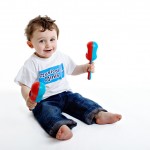 This helps both the child's coordination and their understanding of the words as they perform the actions and are also a lovely way for adults to interact with their child.
In our Musical Minis classes, we find that the adults enjoy the nursery rhyme part of the programme as much as the children. A number of adults have found that they missed out on learning traditional nursery rhymes when they were children and are eager to teach them to their children. Adults for whom English is not their first language are especially keen to embrace English culture and learn the nursery rhymes.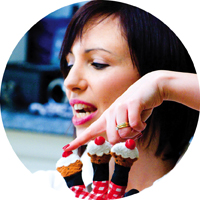 At Musical Minis we are not a music group; we are all about helping children develop cognitive, listening and social skills and helping their language development. That's not to say that we don't have some very musical franchisees; but you don't even need to be able to sing as all the music we use is made for us and provided to franchisees on MP3 files.
Each session lasts 45 minutes and the franchisees hold them in a variety of venues from church halls to indoor-play centres using the stories, puppets and training we provide.
Now we have just launched our Musical Minis Nursery Rhymes Puzzles App, which offers simple jigsaw puzzles on three levels to encourage the development of a child's fine motor skills; the child is then rewarded by seeing and hearing the relevant nursery rhyme when they complete it successfully."
Karen Sherr has a degree in Child Psychology from the University of Warwick and was a professional play specialist at Great Ormond Street Hospital for Children before founding Musical Minis in 1989.
If you are interested in finding your nearest Musical Minis class or a franchise opportunity visit www.musicalminis.co.uk