The Franchise Magazine - August 2013
Unemployed? Invest in your future with a franchise
Unemployment, through redundancy or otherwise, is a daunting prospect – especially if you have a mortgage to pay and a family to feed. Louise Bruce talks to three entrepreneurs* who took the initiative and invested in a franchise to successfully buy their way out of unemployment. 
* This extract concerns only the Musical Minis Bucks & South Northants franchisee, Amanda Perkins.
Buying into a franchise can yield rich rewards. As unemployment in the UK reaches levels not seen since the early 1990's, more and more people are looking into becoming their own bosses using a tried and tested business model.
The HR Advisor
Five years ago, Amanda Perkins, 30, was a human resources advisor for the Meat and Livestock Commission and had just completed her master's degree when she fell pregnant with her first child Niamh. Now, she is the owner of a successful Musical Minis franchise, which provides groups for toddlers to have fun with music. She comments: "At the time, the Government restructured the Commission and I found myself doing a 100 mile round trip to a new role, in a new office in Warwickshire.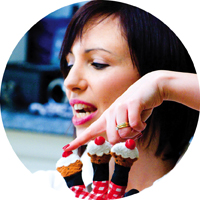 "Shortly after Niamh was born, I began to contemplate my return to work and quickly realised that putting her in day care for up to 10 hours a day, three days a week, wasn't what I wanted, so I applied for voluntary redundancy from my role." Amanda started looking for more HR work closer to home, but was unsuccessful in her search and was reluctant to start at a job lower down the ladder.
Amanda continues: "I wasn't actively looking to buy a franchised business but I'd been taking Niamh to a local Musical Minis class with some of my friends every week and we all absolutely loved it. Being a new mum, it was the one thing I really looked forward to each week and the classes became so popular we had to book early each week to be sure of getting a place. "One day I approached the owner to ask if I could help out at any of her classes; she told me the franchise was for sale as her own child was unwell and she was finding it hard to cope. I started training in January, in April 2010 I bought the business. When Amanda took over her business, it was running just four classes per week. Now, three years on, she operates 19 classes per week and two parties a month – Amanda even won the EWIF Young Franchisee of the Year award in 2010 in recognition of her success.
For Amanda, one of the main benefits was the support she received throughout. She adds: "For me, the benefits of buying a franchise were that I didn't feel 'alone' in those early days. Being unemployed then buying a business are both scary things to go through, but with a franchise business I knew I had support from day one. "Not only did I receive full training on running the classes and the admin of the business, but my franchisor Karen Sherr, who has been running Musical Minis for 24 years, provided me with invaluable support in those early days and continues to do so today."
Amanda, now a mother of three, believes that stepping out of your comfort zone is good for personal development and that utilising social media is key to running a successful franchise like Musical Minis.
She concludes: "I would definitely recommend buying a Musical Minis business to a friend; at times I have been earning as much as if I had been working in a part-time in an HR department. However, if I had one piece of advice for someone thinking of starting a franchised business like mine, I'd say remember it is a job not a hobby. You absolutely have to put in the hard work to build your business yourself; your franchisor will support you but they aren't going to grow your business for you, that's 100 per cent down to you."