ST DAVID'S DAY 2015
I've lived in Wales all of my adult life but it wasn't until I had children of my own, that I realised just how much effort goes into celebrating St David's Day on March 1st each year. From holidaying in Wales as a child I'd been aware of the Welsh National costume, which I just love, and I can remember learning traditional Welsh Country Dances and making Welsh Cakes.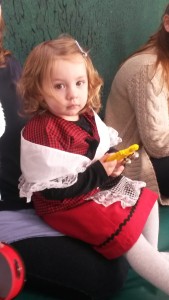 Clubs, classes and groups hold their own St. David's Day celebrations, shop fronts are dressed and schools hold their annual Eisteddfods which include poetry, music, creative writing and art. Children are encouraged to go to school dressed for the occasion. Costumes range from traditional Welsh, to leeks, daffodils and rugby players and even Tom Jones and Shirley Bassey!
For several years Musical Minis South Wales have held their own St. David's Day celebrations. My aim from our week of celebrations has never been to teach the Welsh language but to celebrate the Welsh culture whilst having lots of fun.
We've had a go at singing a few songs in Welsh including a variant of our name song, head shoulders knees and toes and a couple of simple nursery rhymes which I learnt when I attended a preschool group in our local library when my children were little.
In our story bag we had our very own little Welsh Dragon – Dewi Draig, who lives somewhere up in the Welsh Mountains.
At the end of each class the children were given either a Welsh cake or a daffodil or leek badge.
On behalf of Musical Minis South Wales – a slightly belated
Dydd Gwyl Dewi Hapus. Happy St. David's Day.