READ ABOUT A DAY IN THE LIFE OF OUR BUCKINGHAM FRANCHISEE
A day in the life of Amanda Perkins, franchisee for Buckingham and South Northants
 I usually wake up about 7am and try to get in the shower before my little toddler, Niamh, wakes up. Niamh is 19 months old now and once she is awake and out of her cot, it's all go! Once I am dressed and ready, Niamh and I go downstairs for breakfast. Niamh always gets very messy at most meal times so I don't dress her for the day until after breakfast.  My husband, Toby, rolls out of bed about 7.40am and takes our dog, Lucy, for a walk, before he gets ready and goes to work about 8.30am.  Toby usually loads up my car with everything I need for class in the morning, so I have to be organised and leave everything ready by the door the night before.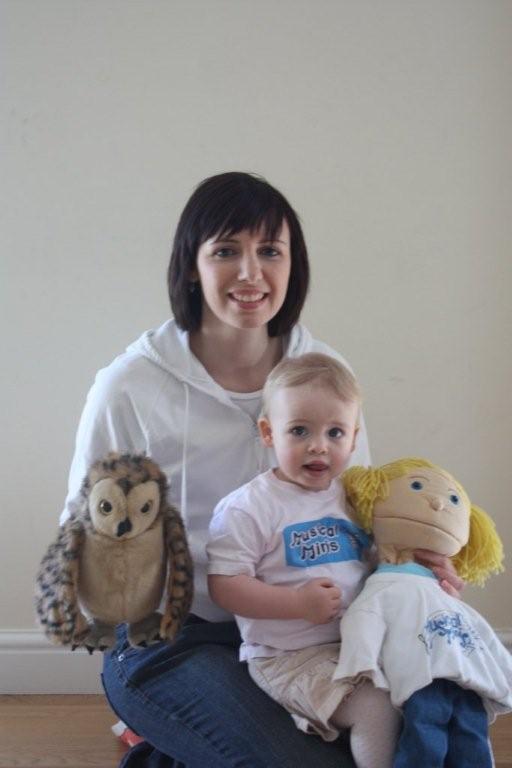 By 9am Niamh and I are in the car and on the way to the child minders, Pippa.  Niamh goes to Pippa's house on Tuesday, Wednesday and half a day on Thursday.  She loves Pippa and her daughter, Grace and enjoys all the activities they get up to. Niamh still goes to Musical Minis in Grange Park on a Monday with me when my mum very kindly assists me. Once Niamh is dropped off I head off to my first class.  As my region covers Buckinghamshire and Northamptonshire I could be teaching locally in Milton Keynes or have a 45 minute drive to my furthest class in Weedon Bec. I teach private classes, Sure Start Children's Centres and in nurseries. Once I get to the venue I cart all my equipment in such as my MP3 player with speakers, crate full of puppets, whistles, parachute/ or bubble machine or/ footballs, and a large box of instruments for the little ones to play with. I always ensure my instruments are cleaned with anti- bacterial wipes for class, especially with all the bugs and colds going around in the winter. My whistles are also sterilised in Milton after every class. All we need in a venue is a table to set up and access to power.  It only takes about 5 minutes to set up and be ready to start the class. 
I start the class by calling everyone into the circle and saying good morning. I introduce the instrument of the week and then begin our first song, the introduction name song where we all sing "I'm a Musical Minis and Amanda is my name". We go around each child in the circle and sing their name in turn.  I love this part of the class as children really react to their own name being sung and I love getting a big smile or even a wave! We then continue through the programme of action songs, musical bumps where we work on their listening skills, instrument time, whistle blowing, a story, nursery rhymes using puppets and actions and then finally the Holey Cokey.  This is a great last song as the children love being lifted high into the circle and the parents get a little work out. Everyone goes home happy. Even though I teach 7 classes per week I soon pick up all the children's names and say good bye to everyone.
After loading up the car again I head home to grab a bite to eat and a big mug of coffee.  I usually check my emails and answer any telephone messages over lunch.  Enquiries could be from parents who would like to join a class or want a Musical Minis party, or I often speak to different publications where I advertise Musical Minis.  I also sometimes speak to Sam, one of my teachers, for any updates on her classes. I always check my Musical Minis Facebook page too and add any updates for people to see.  It's then time to head off to my afternoon class so I change over the whistles in my crate and anti-bacterial spray my instruments.
By 3pm I pick Niamh up from Pippa's house and find out what's she been up to that day.  We often just come home then. Niamh will have a snack and a cuppa for me.  Alternatively, I will have other errands to run like photocopying, banking cheques, buying stationery or going to the post office.
We have dinner about 6pm when Toby comes home. We all sit at the table together and we tell each other about our day.  I love telling Toby about what new things Niamh has learnt or what she created at Pippa's house. Niamh then has her bath about 7pm and is asleep by 8pm at the latest. Toby and I take it in turns each night to give her the bedtime bottle.
After everything is tidied up after dinner I usually make a cuppa and check my emails again.  I usually have at least 15 emails a day to get through as well as sending out invoices, sorting out payments for hall hire and advertising. I often speak to Head Office in the evening too to discuss any queries or to get advice. By 10pm I try to turn off the computer and watch TV, however this doesn't always happen as I get so into what I'm doing.  I think as I am now self employed I am far more motivated to work than I was working in an office environment. As it's my business I want it to succeed and be proud of it so put the extra effort in to make it work.  I feel I am contributing to society by seeing children learn and grow physically and mentally. I don't think I would ever want to do any other job as it fits into my family life so well and makes me happy. When you get that big grin or giggle when a child has learnt something new or is just happy at class it makes it all worth it!