ST DAVID'S DAY – MUSICAL MINIS STYLE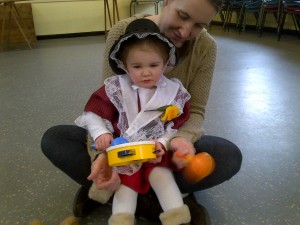 Musical Minis South Wales recently celebrated St David's Day, in style, with a week of celebratory classes.
Many children attended the classes dressed in traditional Welsh costume, rugby shirts or traditional Welsh colours (red and green). The Friday class in Sully fell on 1st March and the whole class dressed for the occasion. It was great to see so many grown ups dressed for the event as well.
We started our classes by singing a version of our name song in Welsh – 'Bore-dah (Good morning) or Prynhawn da (Good afternoon) followed by the child's name, then,  Sut wyt ti. (How are you?)
Out of our story bag came a little Welsh Dragon who lives up in the Welsh mountains. He had a little tickle up his nose and he just couldn't stop sneezing. He is a very friendly dragon who loved meeting all the children and received lots of kisses and cuddles.
During the nursery rhyme section of our session we sang '5 Welsh cakes in a bakers shop … …' At the end of the class each child was given, (and definitely enjoyed eating) a tasty Welsh treat – a Welsh Cake.
Although you've missed our St David's Day celebrations this year you can still join in the fun at our weekly classes. We are at Barry, Bridgend, Pontyclun and Sully. For more information contact jo@musicalminis.co.uk