Reed Commercial - March 2016
£50,000, part-time hours and three months holiday per year…
Reed Commercial interviewed Musical Minis' double franchisee, Leena Thakker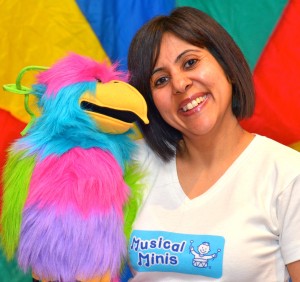 Musical Minis, one of the UK's leading part time franchises, is growing fast. With earning potential of up to £50,000 and three months holiday to boot, more and more people are choosing to own their own Musical Mini's franchise.
What's more, franchise owners within the business are choosing to expand, buying additional territories and doubling their earning potential. One such franchisee is Leena, having successfully run the Oxfordshire franchise for six years, she's taken the plunge and now also runs the Buckinghamshire and South Northampton franchise. We asked Leena about her experience as a Musical Minis franchisee:
"I had no previous experience of running a franchise – I had always worked for corporate companies.
After having researched and investigated a number of franchises, I decided to purchase the Musical Minis franchise as there were no targets set by head office so I could grow the business as slowly or as quickly as I wanted to."
From corporate stress to work-life balance
"After coming from a highly pressurised job, after having my daughter I wanted to work at my own pace, to fit in with my family life. With Musical Minis, there were no hidden costs so the total franchise price included everything I needed to get my business up and running, after the initial training."
Funding the franchise
"There are many ways of financing a franchise business, the best option for me was to borrow the funds from my dad. With his financial backing, I was able to set up the business and pay him back within a year of purchasing the franchise."
Rapid Growth
"The business grew very quickly and much quicker than I had anticipated. With a five-year-old and a two-year-old I wanted to grow the business at a much slower and steadier pace, but when I did the initial marketing, I had a phenomenal response and started off with six classes a week when I was only planning to start with two!
I chose not to turn the work down, so I started six classes and then decided to put my youngest daughter into nursery a couple of mornings a week as it was not fair on her to attend so many classes each week. The business then grew from term to term. A nice problem to have!"
Advice to others
"I would advise any potential franchisees to 'shop around' as there are a lot of franchises out there and it is important to find one which suits you and your lifestyle. Also ensure you look at all the fine print in detail and make sure that there are no additional, ongoing costs that may be applicable before you can actually start your business. It is very important that you have a good rapport with the Franchisor, so make sure you do meet them and don't buy the franchise from just email correspondence and telephone calls."
Expanding the businesses
"I have now been running the Oxfordshire franchise for almost seven years. I have taken staff on and more recently have taken a step back, I spend more time managing the business than running classes. I have also just recently purchased the Buckinghamshire and Northamptonshire franchise areas. So with a new territory, I am now putting my efforts into marketing the two areas utilising the skills I have from my education and previous career. I want to continue growing the businesses at a steady pace and hopefully take on more staff to continue my expansion programme."
Could you be the next Musical Minis franchise owner?