NEW FRANCHISEE FOR BEDFORD
Having successfully run Musical Minis in Bedford for 7 years, Jane Wakelam and Lisa Cicco decided it was time to sell their franchise.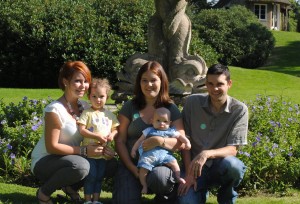 Tracey Gentle (pictured above in the centre with her family) had previously attended Musical Minis with her children and recognising the benefits of Musical Minis both for her children and as a great business, jumped at the opportunity.
Tracey has three children, aged 17, 3 and 1. She has always enjoyed working with children, training both as a nursery nurse and a social worker.
Tracey is going through an extensive training and handover period to ensure there is continuity. She intends to expand further into the Bedford area and open new venues to meet demand. To find out about where classes run, click here.