VOTE FOR MUSICAL MINIS IN 2013 WHAT'S ON 4 AWARDS
Please spare a minute and vote for Musical Minis. Voting closes at 5:00pm on Tuesday 28th May.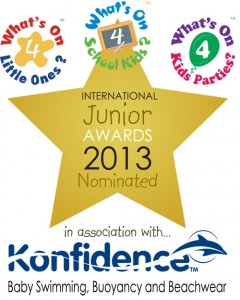 The What's On 4 Little Ones Awards recognise the best activities for children from throughout the UK as nominated and voted for by parents, so Musical Minis is delighted, for the fourth year in a row, to have received a multiple nominations in the 2013 awards.
Musical Minis is proud to have been nominated in the following four categories:
From now until the 28th May 2013, you can log onto the What's On 4 Little Ones Awards voting page to vote for Musical Minis. You can only vote once but in as many categories as you would like. If you submit your vote you will also be entered into a competition to win two tickets to the awards. Click here to vote.
Thanks in advance.