Reed Commercial - October 2016
Small People, Big Business: Hazel's Story
Why not use the experience of caring for your own young children to turn it into a business? Hazel Morgan, from South Lincolnshire, took the opportunity and gave it a go with a Musical Minis franchise.
About Musical Minis
Musical Minis was founded in 1989, by Karen Sherr, and since then has enabled thousands of young children to take part in music activities. In 1997, the company sold its first franchise. Now there are over 10 franchisees in operation across the UK. One of the great things about starting a Musical Minis franchise is how quickly you can set up your business. It doesn't take more than a few weeks to have your franchise up and running. Franchisees benefit from choosing to work the hours that they want, with some franchises working 30 to 40 hour weeks and others 10 to 15 hour weeks.
All Musical Minis asks is for people willing to follow their system with a lively and outgoing attitude. The initial investment covers all of your needs, from training to PR material.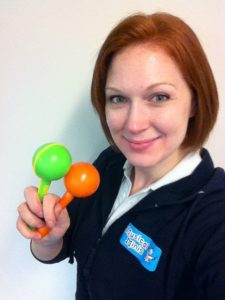 We interviewed Hazel Morgan, Musical Minis' South Lincs franchisee. Hazel spent most of her working life with young children and put that experience to work as her own boss, she shares her story:
The early days
'I was looking to move on from childminding as my youngest was starting school. I needed a new venture to get me out and about and meeting new people, but still working with children as I always have worked with under five's.
I saw that my current area of Musical Minis was for sale, which couldn't have come at a better time! After meeting with the owner and her explaining the business, it excited me. All I had to do was raise the funds to buy the franchise. I had help from family members to raise the initial funds to start the business.'
Life as a franchisee
'I have always worked in nurseries with under five's and mostly under three years old. I have numerous qualifications in childcare.
After having my daughter, I returned to working long hours for very little in a nursery. However, after having my son four years later, I had decided not to go back. I gave myself the freedom of working from home, being with my son childminding. This experience, whilst being on a very small scale, gave me the knowledge and drive to run and own my own business. Doing everything myself for all aspects of the business. I had also taken an organisational role in the local mother and toddler group.
When I first started thinking about buying a Musical Minis franchise I was apprehensive about getting in touch with the business and expressing my interest. Being a full-time mum and working from home with a handful of clientele had knocked my confidence. After a chat with my Dad who assured me I was more than capable of doing this, I made the call. Thank goodness I did, thank you Dad!'
The challenges of business ownership
'I have had a few personal difficulties to deal with over the last few years. I feel that when you are self-employed, it is you and only you that can make your business work.
So for the hours that I was working, I would brush myself off, give myself a pep talk, deliver a good class and put my difficulties aside for those few hours. Head office gave me the best support and encouragement during this time. There is one thing that running a Musical Minis franchise does that other jobs may not, is put a smile on your face. The children and parents alike enjoy the class. Seeing children smiling and laughing makes my day.'
Advice to others
'I would recommend taking on a franchise to anybody. It gives you the freedom to work around your home life, working as hard or as little as you like. Working hard initially allows you to reap the benefits later. Having the support and resources that Head Office provide is invaluable and they are approachable, only a phone call away. I am continuing to build my business. Opening new classes with demand, and looking to take on extra staff.'
If you've been inspired by Hazel's story and would like to know more about Musical Minis then don't hesitate to leave an enquiry.