Funny Business
When was the last time you laughed at work? For franchisees in the child-based sector, fun laughter and priceless job satisfaction is guaranteed everyday, as Vesna Silijanovska discovers
With more than 13 million children living in the UK, it's no wonder that child-based franchisees have flourished. It is also a sector that goes beyond the financial rewards as your business will help children to learn, grow and develop.The beauty of many child-based franchises is that they offer as much or as little as you want. Musical Minis, a business that aids child development through music, is an example of a franchise opportunity that allows franchisees to take the business to a level that suits them. The franchise is ideal for parents with young children who want to fit work around the family and also entrepreneurial types who want to develop their business as much as possible. Founder Karen Sherr explains: "We give our franchisee a very large area so they can work all day every day if they so wish (however) we don't set targets so there is absolutely no pressure from us."
Franchises, such as these, often do not require the teaching or musical background, "The only thing they have to do is like children!" says Karen.
It would be impossible not to feel inspired by child-based franchises, which can provide education, fitness and emotional development for children. So why not listen to the kid within and return to a child-like happiness by working with children!
Interview with Jo Weaving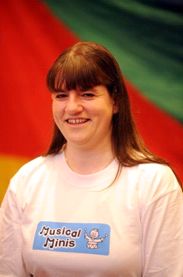 Previously a manager for a leading mobile telephone provider, Jo Weaving from Wales bought her Musical Minis franchise 6 years ago and loves the spontaneity and joy that children bring to her working life.

What made you choose a Musical Minis franchise?
After I had my son Jack, I was planning to go back to work, but I just didn't want to go back to the job I was doing before. A friend suggested looking at pre-school music – as I am musically trained – and I came across Musical Minis. I looked at the website, contacted them directly at Head Office and here we are!
How have you found running your own business?
The emphasis of Musical Minis is to make sure that it fits in with your family, so all my classes would be fitted around sleep and meal times. I also do the paperwork one evening a week after the children have gone to bed.
Is your work-life balance a lot better?
Completely! Before I was working more than 50 hours a week, plus weekends.
What support is offered?
Support from Head Office has always been absolutely fantastic. We have a franchise day every year where we share ideas and get an update on the business. We look at where the business has come from and the number retention as well as new instruments and songs.
What was the hardest thing about starting your own business?
Probably finding the halls to run the sessions, having a starting point from which to advertise from and encouraging people to join the group, especially as it was a completely new set-up in South Wales at the time.
What do your daily tasks involve?
I run four regular sessions a week. I've currently got three contracts so I run 7 sessions over 5 days. As well as the school runs, I also do other pre-school activities for babies with my younger son – so I still have time to do other things apart from Musical Minis.
Do you find it fulfilling?
Being a mum, Musical Minis feels so right. It has enabled me to be a full-time mum and still work and have an income. I love working with the children because they do something different all of the time!
What would you say to others looking at franchising?
Look out for competition – competition is obviously a good thing but you don't want 10 things in the same area. Also look at local competition and try to visit and experience their service, and check out their prices.
What are the other benefits?
The cost of childcare today is horrendous – that was another reason that I did not go back to work as three quarters of what I would have been earning would have gone on childcare. So I've always taken my children to work with me – Jack came when he was seven months old and Harrison has been coming since he was six weeks old. I've also made so many friends and built up a really good social network.