Franchise Direct - October 2013
Musical Minis franchisees celebrate 30 years!
Three Musical Minis business owners have recently celebrated 10 years each in business.  Musical Minis in South Lincs, South Wales and Bucks and South Northants have all held parties for parents and their children in their local area, to mark the occasion.
Musical Minis is a music class for children aged from 0-5, designed by franchisor and child psychologist Karen Sherr, to help children's cognitive, physical and emotional development through the use of music, instruments and stories.
Hazel Morgan, Jo Weaving and Amanda Perkins have franchises that have been running in their areas for the last ten years and have also recently renewed their franchise agreements to allow them to carry on running classes for another five years.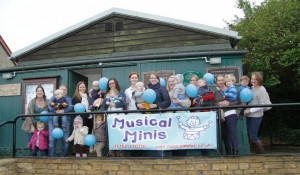 Musical Minis which was founded in 1989, recently scored 100% in a number of categories in the Smith & Henderson Franchise Satisfaction Benchmark Survey.
Franchisor Karen Sherr who is a long-time member of EWIF (Encouraging Women Into Franchising) said,
'We're so delighted that Hazel, Jo and Amanda are celebrating ten years of running Musical Minis businesses in their area.  They all run their classes quite differently; some work with other class leaders, some of them alone, but the one thing they have in common is that they're running sustainable, profitable businesses which they fit in and around their children and family lives. I couldn't be more delighted that the idea I had nearly 25 years ago is still being enjoyed by children across the UK today and even better that it is providing employment and enjoyment to so many at the same time.'