The Franchise Magazine - May 2011
Encouraging Women into Franchising award winners revealed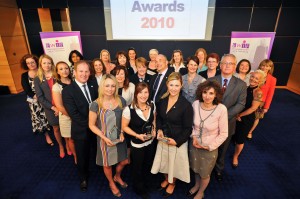 The first Encouraging Women into Franchising (EWIF) Awards Ceremony has taken place in London.
The aim of the Awards, which took place on Tuesday 10th May, was to formally recognise the growing contribution women franchise owners, women franchisors and women franchise service providers make to the sector.
The finalists and winners were announced at the Awards Ceremony held at the NatWest building in central London, and were attended by over 150 people from throughout the world of franchising.
Clive Sawyer, Chairman and founder of EWIF, and Managing Director of Business Options one of the UK's leading franchise consultancies said: "We were absolutely delighted at the response to these inaugural EWIF Awards both from the number and quality of entries received. It was especially pleasing that we had entries not just from the large very well known franchise brands but also from smaller less known franchises as well. The large turn out for the Awards Ceremony is an indication of the level of support EWIF has from the whole franchise industry."
There were four awards presented and the winners were:
Woman Franchisee of the Year, sponsored by NatWest – Lisa Tobias, Domino's Pizza
Young Woman Franchisee of the Year (under 30), sponsored by Recognition Express – Amanda Perkins, Musical Minis
Woman Franchisor of the Year, sponsored by Stevens & Bolton Solicitors – Sophie Brooks, Clive's Easylearn Pop Music Schools
Woman Franchise Service Provider of the Year, sponsored by Business Options – Sarah Cook, Coconut Creatives
Graeme Jones, Head of Franchising, NatWest, said: "As the number one bank for franchising, NatWest was proud to sponsor these awards and encourage more women to realise the benefits or running a successful franchise. NatWest is committed to developing female entrepreneurship, we have our own dedicated Women in Business Service as well as links with everywoman."