Daily Mail - January 2009
On your own but not alone
Linda Whitney Monday January 9, 2009
There's more than one way of starting up in business for yourself.
Instead of going it alone, you could buy a franchise. Many well-known companies are franchises, such as fast-food chain McDonald's, recruiter Select appointments, and education provider Kumon.
But there are more franchises than these, so there is likely to be one in the area of business you are considering. The British Franchise Association (BFA), the franchise industry's self-regulatory body, found more than 800 franchises in its last industry survey.
"Franchising is about being in business for yourself, not by yourself," says Nigel Toplis of promotional business products franchise Recognition Express and children's IT training franchise ComputerXplorers.
"Good franchising is like a good marriage – it should be driven by passion, built for longevity and all consuming for both partners."  A franchise is also more likely to survive than an independent start-up.
The last BFA survey showed that 93 per cent of all franchises were profitable after two years. Meanwhile, four in five non-franchise businesses fail within a similar period.
With a franchise:
YOU don't have to come up with a business idea – someone else has tested it first.
ESTABLISHED franchises often have a well-known name and run national advertising campaigns on your behalf. GOOD franchisors provide training and support in running your business.
FRANCHISES can provide a level of marketing and advertising you might not afford as a lone start-up.
YOU are likely to have less trouble raising start-up funds. Banks are more likely to lend franchisees with franchises that have a proven track record.
All this comes at a price. You pay the franchisor an initial fee, usually followed by a monthly management fee. Check the whole package.
In return for your investment, the franchisor should provide training, product development, and management services.
Franchisors will not usually expect you to have any experience of their sector, but they will expect a high level of dedication.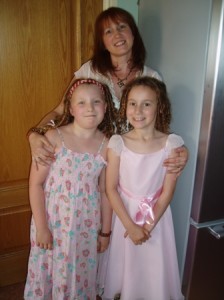 "I DID not know what franchising was until I saw an advertisement for a business that involved working with children," says Cathie Flynn, 44, from Liverpool.
"I had an idea that McDonalds was a franchise, but I did not realise that there were so many others.
Cathie, seen here with twin daughters, was a teaching assistant who wanted more time for her family. She found out how franchising worked by researching children's services franchises.
She finally chose Musical Minis, a franchise that involves running pre-school music sessions for babies and toddlers. "I had been to some of their sessions with my girls, so I knew the format," says Cathie. She started the business in 2001 and now has seven part-time staff. "You have to pay for a franchise, but you get a known brand and business support. There is always someone at the end of the telephone who can help with any problems," says Cathie. "I also got equipment, including musical instruments, and help with the launch advertising." She adds; "Starting up in business with a franchise might be a good option right now as an alternative to looking for a new job."
The start-up costs of 8,000 pounds include training, initial advertising and ongoing support, plus the necessary insurance, for a term of five years