Daily Mail - March 2009
Business can be a flexible friend
Linda Whitney Monday March 23, 2009
YOU NEED more money, but you want to work around the family? The solution could be to invest in a franchise.
'Women don't like taking unnecessary risks in business, so a franchise makes a good way in for them,' says business mentor Emma Wimhurst.
'With a franchise, you can research whether its formula works, you get support from the franchisor and become part of a team. Women thrive in that kind of environment.'
Franchisors say the economic situation is encouraging more women to apply for franchises.
But do not imagine a franchise is like a pin-money job. Franchisors expect you to grow the business. Be realistic about the time you can devote to the business. As well as delivering your service, you must make time for paperwork, administration and marketing.
CHRISSIE ROLLS 31, recently started her own business with the help of the Musical Minis franchise – and her mum.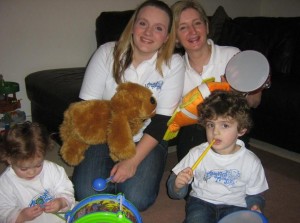 Chrissie, seen here with her mum, Anne and her children, Logan and Amelia, trained as a classical opera singer. As a Musical Minis franchisee, she runs music groups designed to encourage cognitive, physical and emotional development in babies and toddlers.
'Music ended up as a hobby, and I was working in recruitment, hotels and retail, but I wanted to work for myself so I could see more of the children,' says Chrissie from Swindon, Wiltshire. 'There is quite a bit of paperwork, preparing lessons and accounts, says Chrissie. The £8,000 investment includes equipment and advertising.